Culinary historian Michael Twitty is in the business of building bridges.
In his 2017 James Beard Award-winning book, "The Cooking Gene," Twitty connects his identities as a black, gay and Jewish man to the cooking of his ancestors.
Through his work as a historical interpreter, genealogical researcher, self-trained chef and renowned author, Twitty highlights the contributions of enslaved people to empower their descendants.
Next month, he will take a group of 13 chefs, including two from Madison, to West Africa. That's another kind of bridge, between nations, and between past and future.
"We're going as learners, we're going as ambassadors," Twitty said. "We're going as people who will hopefully come back with knowledge we can bring back to our respective communities.
"We want to show America how African it is. We want to show our cousins how much of the culture has been preserved here … how that strength has been passed down through our veins."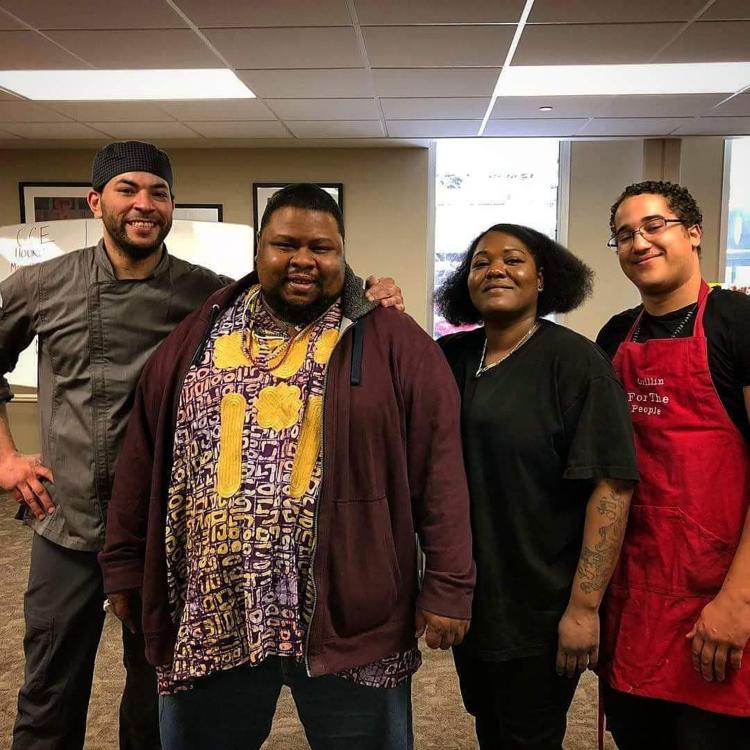 Devon Hamilton and Yusuf Bin-Rella, both members of the TradeRoots Culinary Collective will join Twitty on a trip to Benin starting March 9.
Bin-Rella grew up in Madison. He believes the trip will change not only the way he cooks when he returns, but the regard he has for that food.
"This is a genealogical tour to find my culinary history, my roots," said Bin-Rella, who works in a dining hall at the University of Wisconsin-Madison. "It's to find pride in my food, in my tribes.
"It's the key to unlocking my securities and my insecurities as a chef. I've thought my food wasn't good enough to be on a world scale. But it's the best food I've ever had."
Twitty made his "fourth or fifth" visit to Wisconsin earlier this week at the invitation of the Stahl Center of Jewish Studies at the University of Wisconsin-Milwaukee. On Tuesday afternoon, Twitty anchored a panel that included Madison-based educator Shahanna McKinney Baldon, "Edible Memory" author Jennifer Jordan and UW-Milwaukee film professor Portia Cobb.
Moderator Kyle Cherek of the television show Wisconsin Foodie introduced Twitty as the most influential voice in African-American and pre-Civil War Southern foodways.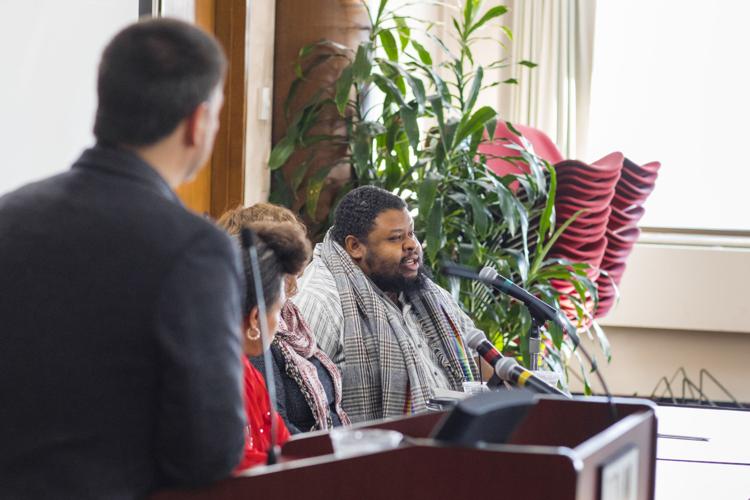 Twitty first rose to national prominence in 2013 when he published an open letter to Paula Deen on his blog, Afroculinaria. In his TED Talk and elsewhere, Twitty likes to say, "race is the illusion, food is the reality," and there's "no such thing as food without politics."
"I was looking at Southern white chefs who were selling the idea of our food without us involved," Twitty said. "No community engagement, no brotherhood, no sisterhood. Just 'Hey, look at me, I can do hot chicken and gumbo, but I have no connection to this community. I'm just celebrating Southern food.'
"And I said, 'That's not good enough.'"
On his blog and on Twitter as @KosherSoul, Twitty engages with culinary leaders like Sean Brock and John T. Edge, and calls them out when necessary. The idea that Brock was "discovering the West African roots of Southern food" incensed Twitty.
"We defined ourselves," Twitty said. "We need another 100 years of Southern white people to define black people's reality? We're not your children. We raised your children! The reason why they eat Southern food is because we gave them African traditions in the first place."
Those African traditions are central to Twitty's work with Roots to Glory, a tour company run by Ada Anagho Brown that connects African-Americans to their ancestral homelands.
Twitty took a group of chefs to Ghana with Roots to Glory in 2018 and wrote about it for Bon Appetit. This time in Benin, he's working with Atlanta-based filmmaker Casey Wright to document the trip. They raised more than $10,000 for the project on gofundme.
"The end goal here is not just mental enlightenment, it's spiritual healing," Twitty said. "It's awareness of health practices and healing practices that can help other people."
He wants his fellow African-American chefs "to flourish," Twitty added.
"They didn't learn this in their various culinary institutions," Twitty said. "Black history in the food world is so lacking, and not just in the South, but in Brazil, the Caribbean, people aren't learning our story. That's really problematic. They're not learning contemporary Africa's food story on its own.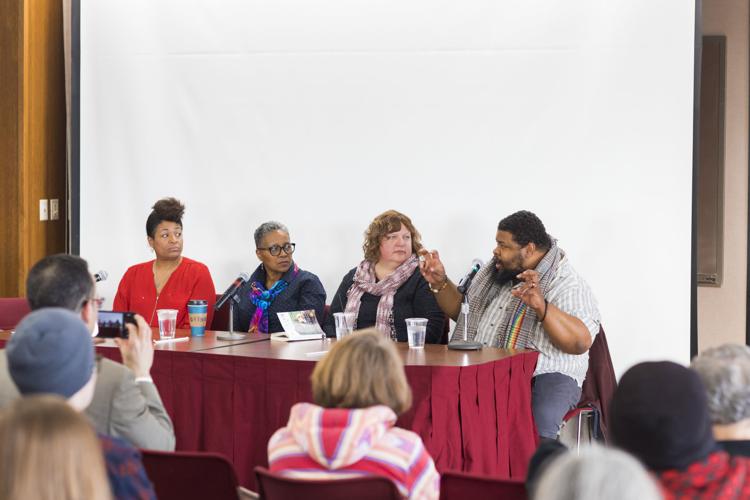 "I want them to have this amazing experience, to be able to connect with Africa on their own terms and come back to communities where they're from and have a bridge between their world and continental Africa."
From a food perspective, Twitty said, it's beneficial for chefs to "see the piles of tomatoes and chilis and black-eyed peas and okra and spices, the sweet potatoes, the yams, the leafy greens … And know this is all part of the food tradition and culture you grew up with."
On Tuesday night in Milwaukee, the nonprofit Fondy Food Center and a restaurant called The Diplomat hosted a private, Southern-inspired dinner for Twitty and his guests. The collaborative menu ranged from bite-sized black eyed pea fritters and cornbread with collards to big casserole dishes of corn pudding and platters of chicken.
After the meal, Twitty turned to the chefs and cooks behind him. Venice Williams of Alice's Garden Urban Farm had made the corn pudding; Jarvis Williams of Carnevor made the smothered chicken. Zakiya Courtney of Vegan Soul Catering made a peanut stew with a deep, warming flavor; Linda Burrell, a baker at Cakes by Linda Kay, made creamy mac 'n' cheese and a sweet potato cobbler. The Tandem's Caitlin Cullen fried the chicken and made beautifully seasoned collard greens.
"The food is real," Twitty said. "The cabbage, the collards, mm! The fried chicken, the smothered chicken … all of it. The love was in the food. The feet were in the food. And the ancestors.
"I'm here because these are people I trust and love and respect, and they've always made me feel very at home."