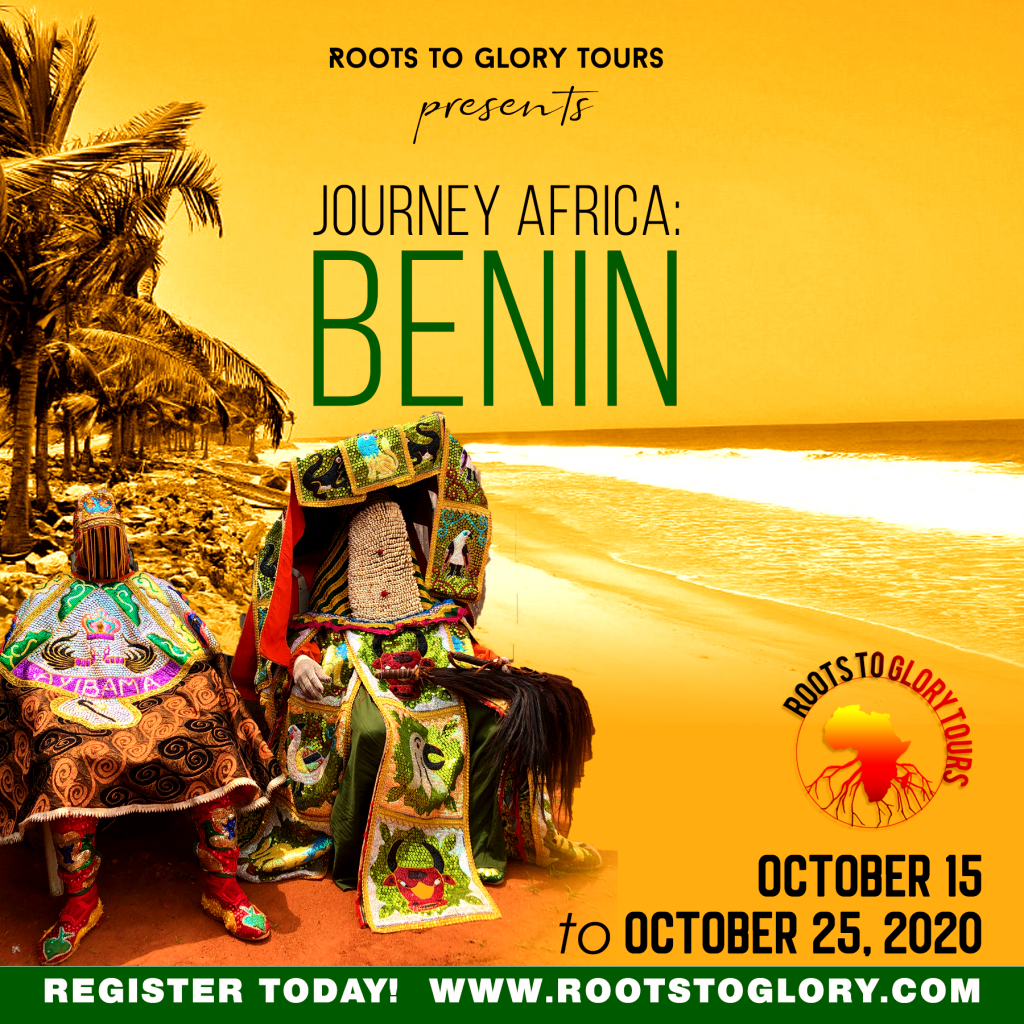 JOURNEY AFRICA:
October 15 – 25, 2020
9 Days
This Tour will include visits to:
Cotonou
Ganvie (the city on the Lake)
Abomey
Grand Popo
Ouidah
The Costs are: $3600 (double) $3900 (single)
ALL INCLUSIVE:
Airfare from Washington DC to Cotonou, Benin
Transportation in Benin
Breakfast and Dinner each day
Souvenir
Not Included:
Visa fee for Benin (www.beninembassy.us)
Vaccinations (yellow fever vaccine is mandatory)
Transportation to Washington DC
Spending money
Gratuity of $100
Camera fee for some attractions
Travel Insurance (www.squaremouth.com/22411)
A deposit of $500 is due at the time of registration. The deposit is refundable only within 30 days of initial deposit.
Another payment of $1500 is due on January 15, 2019. The balance of $1600 is due April 1, 2020. If using Paypal, there is a fee of 4% which will be collected at the final payment.
Payments can be made by check or money order to Roots to Glory Tours P.O. Box 92, Stevenson, MD 21153.
Prices are not guaranteed after the payment due date.
PAYMENT PLAN OPTION:
PAYMENT PLAN IS AVAILABLE UPON REQUEST TO roots@rootstoglory.com.
THE DEPOSIT OF $500 IS REFUNDABLE WITHIN 30 DAYS OF PAYMENT ONLY. WE STRONGLY SUGGEST THAT YOU PURCHASE TRIP INSURANCE. THERE WILL BE NO REFUND AFTER 30 DAYS.
*We recommend that before you register for one of our tours you make sure that you are able to get the yellow fever vaccine. This is mandatory to enter in most African nations.
You can contact us at roots@rootstoglory.com or 410-429-0804.
ITINERARY TO BE DETERMINED!!!
*Our tours require a moderate amount of walking. Our tours are not recommended for people with serious medical or mobility challenges.